URLAND presents: 4 noble truths in 49 slides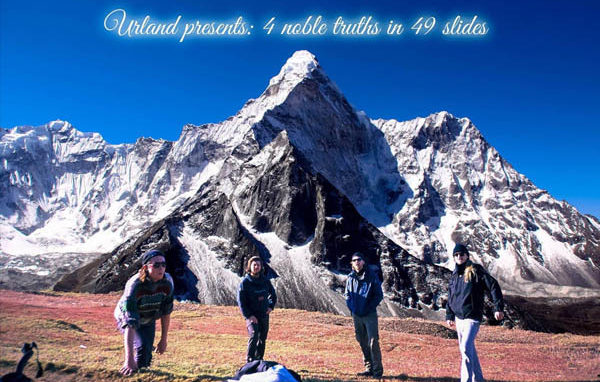 URLAND went to Nepal.
No, Really. Urland really went to Nepal.
URLAND went.
Everybody is actually pretty happy.
Really happy.
URLAND is really happy.
URLAND PRESENTS 4 NOBLE TRUTHS IN 49 SLIDES
The only way to make the voices in our heads shut up
is to take our hearing damage and make it our meditation object.
Control those monkeys!
Everything changes, everything will be alright.
Afgelopen januari ging het performancecollectief URLAND een maand lang op retraite in Nepal voor een online-detox in een klooster op 4325 meter hoogte temidden van het Himalaya gebergte. Ludwig Bindervoet, Thomas Dudkiewicz, Marijn Alexander de Jong en Jimi Zoet presenteren 49 dia's begeleid door de meest memorabele tekstfragmenten uit hun LOST DIARIES en hypnotiserende MONK BEATS.
Credits
Concept en performance
Ludwig Bindervoet, Thomas Dudkiewicz, Marijn Alexander de Jong en Jimi Zoet
Bijzondere dank aan
Productiehuis Rotterdam, Fonds Podiumkunsten en Stichting Henriëtte Hustinx
Gespeelde locaties
Schouwburg Rotterdam