URLAND presents: 4 Noble Truths in 49 Slides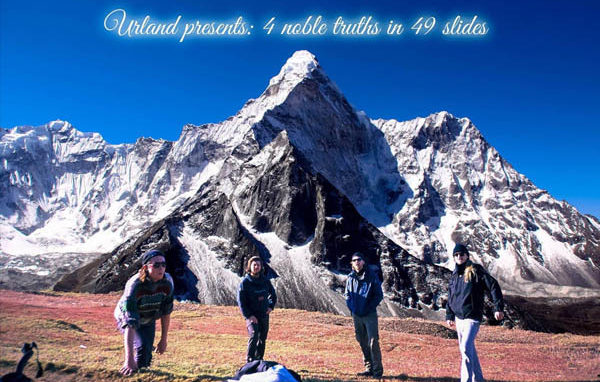 URLAND went to Nepal.
No, Really.
URLAND really went to Nepal.
URLAND went.
Everybody is actually pretty happy.
Really happy.
URLAND is really happy.
URLAND PRESENTS 4 NOBLE TRUTHS IN 49 SLIDES
The only way to make the voices in our heads shut up 
is to take our hearing damage and make it our meditation object.
 Control those monkeys! 
Everything changes, everything will be alright.
Credits
Concept and performance
Ludwig Bindervoet, Thomas Dudkiewicz, Marijn Alexander de Jong and Jimi Zoet
Special thanks to
Productiehuis Rotterdam, Fonds Podiumkunsten and Stichting Henriëtte Hustinx
Played Venues
Schouwburg Rotterdam