Boulevard of Broken Scenes
Revive your darlings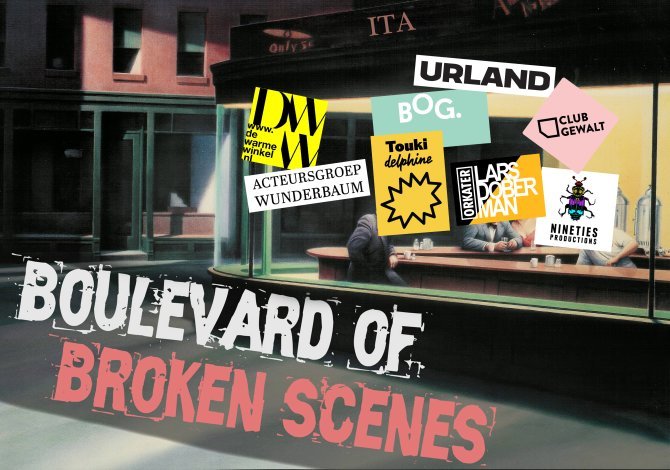 After the successful Nacht van de Collectieven (2016), various members of BOG., CLUB GEWALT, Orkater / Lars Doberman, Nineties Productions, Touki Delphine, URLAND, The Hot Shop and Wunderbaum, now throw themselves and their best-intended ideas into the deep-end at the beginning of the new year.
On this one night, all those killed darlings are revived again and then buried forever.
Credits
Concept and performance
URLAND, Touki Delphine, Nineties Productions, BOG., De Warme Winkel, Wunderbaum, Lars Doberman, Club Gewalt
Producer
Orkater and Internationaal Theater Amsterdam
Reviews
"Heel fijn om een grote cast op het toneel te zien die eindelijk een keer álles speelt waar de acteurs plezier hebben. Zonder zich zorgen te maken over de vraag of het artistiek-inhoudelijk wel vernieuwend genoeg is. Dat zouden ze vaker moeten doen, het spelplezier druipt er vanaf."
Theaterkrant, 12 januari 2019
Played Venues
Internationaal Theater Amsterdam