De Eindtijd Revue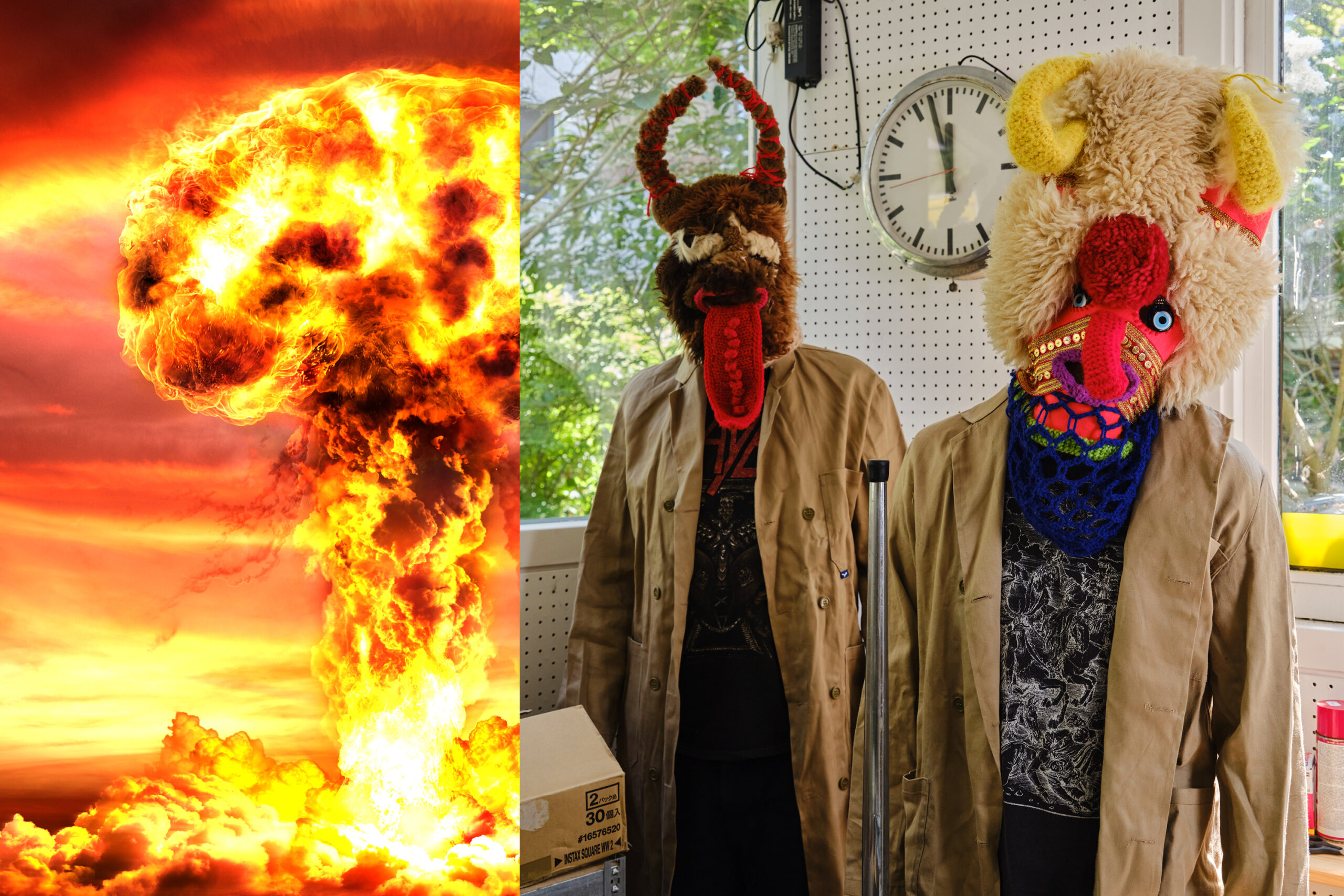 After the success of De Gabber Opera URLAND storms the theater with a grotesque meta-show about the Endtime. De Eindtijd Revue is an apocalyptic and ominous theater celebration, in which all possible endings and Endtime stories clash. URLAND's credo is 'DESPAIR GIVES LIFE'. And this performance poses the question: how do we learn to despair? How do we prepare?
Throughout the history of mankind the Apocalypse keeps resurfacing as a social, historical phenomenon. From the Ragnarok to the Four Horsemen of the Apocalypse, from the Mayan empire to the contemporary Doomsdaypreppers. It can be a promise, then a warning, or an incantation?
URLAND invites unconventional performers and creates a vibrant ad hoc collective (theater maker Vincent van der Valk, percussionist Jens Bouttery, opera singer Bernadeta Astari, and others), speaking various theatrical languages. We witness a theater company preparing for the ultimate. The multidisciplinary performance is one big warm up to 'De Eindtijd Revue' that is to take place that evening, and leading up to the starting time, the revue passes the review. URLAND clings to the notion that, in mythology, every Endtime also heralds a new beginning. The warm-up is complete. The blackout is the beginning. Despair gives life.
Credits
By and with
Zita de Aguirre y Otegui (internship), Bernadeta Astari, Ludwig Bindervoet, QiQi van Boheemen, Jens Bouttery, Thomas Dudkiewicz, Marlies Heuer, Marijn Alexander de Jong, Myra Schouten (internship), Vincent van der Valk & Jimi Zoet
Dramaturgy
Florian Hellwig
Directorial assistance
Julie van Westerveld (internship)
Scenography en light design
Ruimtetijd - Theun Mosk, Rients Dijkstra (assistent scenografie), Marieke Horst (assistent scenografie) & Jurre Pöpping (assistent lichtontwerp)
Costume design and execution
Kostuumatelier Theater Rotterdam - Erik Bosman, Sara Hakkenberg & Iris Brussee (internship)
Set construction
Firma Smits
Technical coordination
Denzo Theatertechniek (André Goos)
Technical team
Marcel Janssen, Edwin van Steenbergen, Ruud Lamers, Jorg Schellekens & Frank Hermans
Production leader
Elise de Fooij
Publicity/marketing
Esra J. Merkel and Pien Visser
Graphic design
Ruben Verkuylen
Photography
Lonneke van der Palen
Business management
Martha van Meegen
Assisitant management
Mara Liza de Bakker
Coproduction
Theater Rotterdam
Special thanks to
Made possible by Gemeente Rotterdam and Fonds Podiumkunsten
Agenda